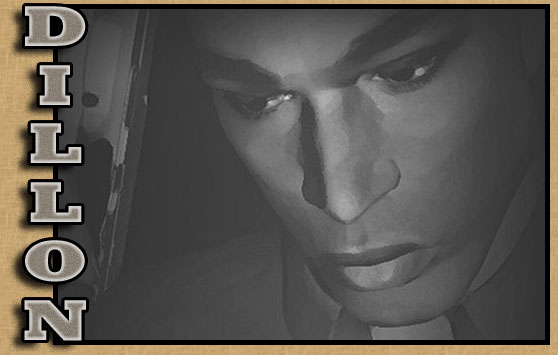 One of the first things Dillon had been taught when he had come under the tutelage of The Warmasters Of Liguria was this: When Being Chased By Enemies After Your Blood, Never Turn Around. The logic of this was simple: when you're running full tilt boogie through a jungle and you turn around to look to see how close your pursuers are, you're likely to go tripping over...say, a gnarled root hard as iron and go tumbling wildly out of control down the steep side of a hill so tall that might as well be the baby brother of a mountain.
Dillon grunted as he careened through shrubs and over small trees, starting a small avalanche that kept him company as he rolled over and over, gaining speed as he did so. The good thing was this: he was gaining ground on his pursuers, who were following him with much more caution and common sense but at a greatly slower pace. Dillon spread out his arms and legs to slow his tumble and gradually he was able to come to a stop and sit up, catch his breath and take a count of his pursuers. It looked to be an even dozen of them, dressed in the ceremonial olive and steel blue hunting garb of The Blessed Swords Of Ramoseda, the warrior clan who were the bodyguards of the royal family of Tosegio and had been for two hundred years. She who was the current heir to the throne of Tosegio, the impossibly beautiful Princess Sathyra had told Dillon some of the clan's history after two or three especially torrid hours and they were killing time while waiting for the explosives Dillon's partner Awesome Times had planted to go off, knocking out the main power...
"Those children selected to become Blessed Swords are taken from their parents at the moment of birth and within hours are being branded at The Logona Sanctuary. That begins their training, a large part of which is withstanding unimaginable pain. Many do not survive the training but those that do are as close to being unfeeling as a human can be both spiritually and physically without being turned to stone."
Dillon lips brushed her ear as he said, "Sounds as if they're some formidable enemies."
"They are, my love. I pray that you will not have to face them. Their physical abilities combined with the advanced weaponry we have at our command here in Tosegio would surely mean your death." Sathyra looked deep into Dillon's sparkling copper eyes with her own heavenly light gray ones and Dillon actually could feel his heart try to leap out of his chest. He couldn't remember the last time he felt about a woman the way he felt about Princess Sathyra. He licked his lips and opened his mouth, started to say something...."Sathyra, I think I-"
He was interrupted by the sound of a series of explosions going off on the other side of the immense castle Sathyra was being held in. The castle belonged to the brilliantly deranged Baron Potzdorf who was holding Sathyra hostage. Hopefully, Awesome had led The Blessed Swords to Potzdorf's castle. Dillon grinned down at Sathyra and nimbly bounded off the bed and started to get dressed. "Time to make the doughnuts, baby. Get dressed and let's go."
Sathyra did so. But while she did, her eyes never left the black aluminum case that held the cardial dermoamplifier Dillon and Awesome were risking their lives to recover for The Japanese Secret Service. But Dillon had eyes only for Sathyra...
...Of course all that had been before Awesome and Sathyra, along with the cardial dermoamplifier had gotten conveniently separated from Dillon and while he had been attempting to make his way to their backup rendezvous point he'd run smack into Princess Sathrya's bodyguards, sent by her father to fetch her from Potzdorf's castle and The Blessed Swords did not for a minute believe Dillon's story that he didn't know where she was.
Which explained why he was now scrambling to his feet and running like hell to keep from being killed by them over what was basically a really big misunderstanding.
Geysers of earth were thrown into the air as The Blessed Swords fired at Dillon with their lance-like weapons that were tipped with neon blue daggers of energy at either end. Once fired, it took about twenty seconds for the lance to regenerate another energy dagger while the user could flip the weapon around and fire the other one. Dillon jinked back and forth, zigzagging like Jim Brown on his best day, running flat out as explosions went off around him. Those energy bolts packed a considerable punch but Dillon didn't actually think they were trying to kill him. At least not yet. After all, they didn't know where Sathyra was.
Tosegio was one of the 110 inhabited islands that made up the group of 332 that were collectively known as Fiji. The good thing about Tosegio that it was half the size of Manhattan Island. The bad thing is that most of it was dense jungle. Dillon hadn't come planned to traipse through the jungle, especially being chased but he had no choice. His 80-foot long power catamaran, The Bronze Devil, was waiting just off the eastern coast of Tosegio, manned by a good friend of his, Allie Pierri and her fourteen-year-old son, Shon. The plan had been for Dillon, Awesome and Sathyra to make their way to the catamaran, using one of Baron Potzdorf's jeeps.
But that had been before Dillon had gotten separated from Awesome Times and Princess Sathyra. And even as he dodged the explosions that were coming uncomfortably closer, he had to push down the worry he felt. But Awesome Times was one of the most capable modern day warriors Dillon knew and she would be as safe with him as if she-
-Dillon didn't even see the body that slammed into him with bone-jangling force, throwing him up into the air to slam into the thick trunk of a tree, knocking the wind out of him. Dillon crashed to the ground and lay there, his lungs fighting to draw in great whooping lungfulls of brain-clearing air.
The immensely muscled man standing over him was definitely one of The Blessed Swords. His baroque leather armor looked barbarically futuristic. He raised his lance over his head, the hissing energy dagger at the tip almost blinding Dillon with its neon incandescence.
"Where is the Princess Sathyra, primitive? Speak quickly."
Dillon's answer was non-verbal. His booted feet lashed out to strike the hunter's knees with devastating force. The meaty double POP! was sickening but somehow satisfying to Dillon's ears as the hunter slowly sagged to the ground, not having the strength to stand. He glared molten hatred at Dillon, not making one sound or grimace of pain. Dillon had used that same maneuver on at least a dozen men in his career and several of them had soiled themselves from the excruciating agony of the double injury but this man might as well as been stroked with goose feathers. He lashed out with the lance, which Dillon plucked from his hands. 'Thanks for the firepower. Sorry about the knees."
Dillon continued his run, examining the lance. The surface was inlaid with circuitry and he saw that the two sizzling energy daggers had vanished. Further examination of the device told him why. Each weapon was calibrated to each hunter's unique biosignature. Separate the weapon from the man and the weapon was nothing more than a useless stick. Dillon held onto it anyway. If nothing else, its length and weight made it a serviceable quarterstaff.
The pursuers had gained considerable ground during the brief skirmish Dillon had with their fellow hunter. Dillon loped along easily, making for the river, which would take him to the coast and where his catamaran was waiting. Then it was a fast cruise into international waters and then-
-Dillon skidded to the edge of a deep chasm that dropped straight down about five hundred feet to the river. According to the intelligence he and Awesome had, there should have been a bridge here that would have taken him to the other side to a safe trail leading down to the bottom of the chasm and the river. From there it was a short hike of two miles or so to the coast.
However, there was no bridge and no way across or down.
Part of Dillon's training as a potential Warmaster Of Liguria had been devoted to developing his proximity sense. Simply put, it meant that nobody could get within ten feet of him without Dillon sensing their presence through a combination of smell, sight and sound that merged in such a way that his ability to sense when somebody was sneaking up on him bordered on the psychic. That was how he was able to turn and absorb the charge of the hunter that tackled him around the waist. Now absorbing a charge might not seem like such a big thing to you or I, but when you're tackled and it carries you off the edge of a two thousand foot drop, it enables you to do a lot of things. Such as twist your body so that it carries you and your opponent into the tall stand of trees by the riverbank as Dillon did.
Blue bolts of energy sizzled through the air as Dillon and the hunter crashed into the thick branches of the trees, the neon blue daggers of energy on each end of the hunter's staff slicing through the spade-shaped leaves with buzz-saw precision. Tumbling downward through the branches slowed their fall as Dillon thrust the lance he still held upwards. He flung half of its length over the top of one branch as thick as his forearm and his hand reached up on the other side to grab the protruding half of the lance, stopping his fall. The hunter continued falling, never making a sound but judging by the hideous snapping sounds of bones as he plummeted to his death, every bone in his body must have been broken.
Dillon hung there as more bolts of energy were pounded downward into the tree he hung from, splintering the trunk, cracking it. The tree lurched dangerously to one side and Dillon couldn't even get hold of another branch to climb down as gravity had its way and the tree started to fall as the abused trunk of the tree gave way under the relentless barrage.
A wild, yodeling yell filled the chasm as the tree fell across the rushing waters of the river and crashed with half its length on the opposite side. Dillon's handhold on the energy lance was torn free and he thudded from branch to branch to finally land on his back on the moss-covered ground. He sat up and looked around him in honest surprise. "I...have...got to get a real job..."
The Blessed Swords Of Ramoseda weren't about to give up on him yet. They were already climbing down on their side of the gorge while others from the high cliffs continued to fire lethal azure bolts, hoping to slow down Dillon with a lucky shot. Dillon struggled to extricate himself from the tangle of the tree, ignoring the showering of dirt he was receiving from the explosions around him.
He cleared the fallen, smoking tree and followed the river which would take him to the coast when he felt a vibration in the battered, well-worn bronze colored leather vest he wore. He reached into an inside pocket and withdrew a cell phone and flipped it open, surprised that he was able to get a signal out here. One look at the name and number on the small screen told him exactly why he was getting a signal.
"Awesome! Where the HELL are you? Where's Sathyra?"
"About four thousand feet above ye, me mud brother. I pray to J.C. Himself that he's kept yer ass and yer brain wired together through yer troubles. An' don't you worry none 'bout the princess. She's safe with me."
"What the hell happened to you? I've got Sathrya's Blessed Swords on my ass and these guys don't play! I need a pickup right now!" Dillon paused to catch his breath as he couldn't run for his life and yell at Awesome at the same time.
Sathrya's voice came over the phone as clear as a bell and sweet as poisoned honey, "I regret that we cannot, my love. Timothy and I are leaving Tosegio. I am afraid that our hasty departure necessitates leaving you behind but we have little choice."
Dillon paused as the enormity of what he was hearing hit him. "Aw, shit...baby, don't tell me this. Look, come get me and we'll talk it out, the three of us, okay?"
Awesome's booming basso voice was full of regret as he answered; "I wish we could, Dillon...but, well it's complicated, y'see..."
"Complicated??"
"I be in love, man...th' princess an' me...we's in love!"
"Awesome, you listen to me. You come down and get me right now. We're friends! Mudbrothers!"
"Well, we ain't never exactly cut each other's thumbs under the light of full moon to mix our blood an' swore undyin' loyalty an' all..."
"You sonuva-" Dillon howled wrathfully. "Put Sathyra back on now!"
"I am here, my love!"
Dillon ducked as a tree not more than ten feet away was blasted into splinters, forcing him to dive for cover. "Sathyra, he's sweaty, fat and uncouth. You actually mean to say that you're going to fly away with HIM and leave me to get killed by your bodyguards? I thought WE loved each other?" More dirt showered over Dillon as he crawled rapidly on his stomach, trying to present as low a target as he could to The Blessed Swords.
"But I do love you, Dillon. But I love Timothy more, that's all."
Dillon scrambled to his feet and sprinted for the cover of the tall trees as more azure bolts of energy sped past him. He dived, rolled and scurried to the cover to a forty-foot high mass of moss-covered boulders while he continued talking. "Y'know, we could continue this conversation better if you PICKED ME UP!"
Awesome's regretful voice made the cell phone shake as he answered, "but if we take time ta come an' get ye, The Blessed Swords will take Sathyra back and that's something I can't risk, my brother."
"Awesome-"
"Ye're the most resourceful man still above ground that I know, mudbrother. I wouldn't have left ye in such a predicament if I didn't think ye'd survive. Ye'll come out okay."
"And I suppose you'll be keeping the reward for the cardial dermoamplifier as well?"
Awesome sighed. "What's a man ta do? Sathyra must be kept in th' style to which she has been accustomed to, right?"
"So you're taking the girl and the money and leaving me here to get my ass shot to splinters, is that the deal?"
"When you put it like that it does sound downright shitty, doesn't it?" The connection was broken and Dillon glared at the instrument in his hand, controlling his rage. He had started to chunk the hateful phone into the river but he couldn't afford to leave anything that could be traced back to him. Now wasn't the time to lose his head. Not with The Blessed Swords still after him. Now he had to get off this miserable rock and stay alive so that he could catch up to Awesome Times and wring his fat sweaty neck. And as for Sathyracwell, Awesome must have drugged her, brainwashed her somehowcthe alternative was too horrible to contemplatecthat she actually HAD fallen in love with him....
Dillon ran along the riverbank. If he could just manage to stay ahead of The Blessed Swords long enough to reach the coast he would come out of this with a whole skin...

Dillon's face split in a relieved grin as he emerged from the jungle and felt the strongly brisk ocean wind. He had gone slightly off course but he still shouldn't be too far from where the catamaran was moored. And even better still, he hadn't so much as smelled his pursuers for the last half-mile or so. On one hand he didn't think they would let him go that easily but then again they might try a last ditch effort to take him on the water. He skidded to a stop and looked down. He was standing at the edge of yet another cliff that dropped two or three hundred feet straight down to the ocean.
"Is this country made of cliffs?" he muttered.
A metallic whirring sound above him made his head whip around and up and what he saw wrung a stream of vile blasphemies from him.
The pair of ornihopters, looking like delicate metal birds of glass and metal had been barely scraping the tops of the trees and now they gracefully lifted up and dipped downwards, heading right toward Dillon, their beating wings causing the whirring sound.
Dillon kept low, changing directions every few minutes. He heard the whoompf! of compressed air and dived, rolled as a electrified net slammed into the space he had just vacated, weighted spikes punching deep into the ground, blue sparks dancing over the surface of the net. Dillon came up on one knee, his hand filled with the gleaming black Jericho 941 automatic handgun. He had been loath to fire upon his pursuers before since he really didn't want to have to shoot men who were after all, only doing their job but professional courtesy only went so far. The Jericho barked nine times as Dillon threw shots upwards, forcing the ornihopters to break formation, one going left and the other right. That gave Dillon enough time to race to the edge of the cliff and throw himself off, his body angling like a living spear to slice cleanly into the brilliant blue waters of the South Pacific Ocean.
He pulled himself to the surface with several powerful strokes of his long arms, emerging with a great spray of foam. The ornihopters were coming back around and this time they weren't interested in using the electric nets. Geysers of water erupted around Dillon as the pilots opened up with their machine guns, forcing him to dive back underwater where the force of the bullets was blunted. He swam about sixty feet to the right and came up again to a welcome sight.
His power catamaran, The Bronze Devil was being propelled so quickly through the water by the powerful twin Lecznar-Gfroerer engines that it was leaving churning white foam in its wake and indeed, the craft barely seemed to be touching the surface of the water. Shon Pierri was probably at the helm since his mother frowned upon him shooting anybody unless and until it was absolutely necessary. The catamaran slowed as it approached Dillon. Allie Pierri emerged from the helm station, an M-60 in her black-gloved hands that she quickly set up on a stand that unfolded from the deck next to the helm station.
"What the hell happened?" Allie shouted as she loaded the weapon. "Where's Awesome?"
"Later!" Dillon pulled himself on board. "You don't think you're going to shoot them down with that, do you?" he pointed at the ornihopters. "They're out of range!"
"This isn't for them," Allie said grimly, swinging the huge machine gun around to point at the rear. "It's for THEM." Dillon wiped water from his face and looked in the direction she was pointing in. Five very fast gunships were heading right for them at top speed and they would be within firing range in less than 20 seconds if they didn't move and move fast.
"Hit it, Shon!" Dillon yelled. The youth nodded and leaned on the throttle, The Bronze Devil quickly picking up speed as it headed for international waters. Dillon watched the gunships as they continued their pursuit, gaining no group but not losing any either.
"I think I'll just keep an eye on those lads for a few minutes to make sure they don't have any surprises for us." Allie ran a practiced eye up and down the drenched Dillon. "You'd best get out of those wet things. And where's Awesome?"
"Just get us the hell out of here, okay, Allie?"

Dillon held the tall frosty can of Coors beer to his forehead and looked at Allie as she disassembled the M-60 and stowed it back in the weapons locker under a seat. He had taken off his wet clothes and was clad only in a pair of cutoff jeans. He lay back in the deck chair just relishing in not being chased.
"Futuristic technology or not," Allie was saying in her wonderfully husky voice which resonated with the flavorful accent of her native France. "There's was no way they were going to catch this boat."
"They were only going to stray only so far away from their island. They want to keep their city a secret after all. Even if it means losing a princess or two. "
"Awesome is an evil mound of horse dung, Dillon," Allie snarled. "If I ever get my hands on him..."
"Nobody touches Awesome Times except for me, Allie! I mean that." Dillon pointed a long finger at her. "He's mine. You pass the word along. Anybody gets a line on where he is they let me know. I'll pay well for the information."
"We've got to get to civilization first before you can do anything." Shon said from his position at the helm. The plucky, black haired fourteen year old's baby face was full of concern for their situation as he continued, "This is a good boat but it can't go all the way across The Pacific. We try going back to Fiji and Sathyra's daddy is going to have you strung up by the yabbos."
Dillon grinned over his shoulder at Shon as he cracked open the can of beer and answered, "That would scare me more if I knew what the hell a 'yabbo' was..." he was interrupted by the insistent bleeping of his cell phone which rested on a small table at his elbow. He picked it up and flipped it open "Can't believe this thing still works...now look at who's calling me now..."
"Who is it?" Allie asked, reaching for another beer.
"Lavimore Watson. Ex-CIA spook who had to take a forced retirement. We've worked a couple of jobs. He's okay." Dillon thumbed the TALK button and said, "Lavimore, how the hell did you get this number?"
The chuckle at the other end of the satellite connection was full of genuine humor but tinged with regret as well. "Sorry to hear about the trouble you're having in Fiji. Awesome Times is a monster and a fool."
"Damn. Word does travel fast in our business, doesn't it?" Dillon's voice was as careless as ever but inside he was feeling nowhere as carefree as he sounded. He looked over the immense expanse of water to where Tosegio was just a bump on the distant horizon and he could almost swear he could see Sathyra's face in the clouds over the island.
Lavimore was still talking. "I may be able to get you out of there but you're going to have to do something for me."
"What kind of something?"
"Nothing major, just a retrieval job."
"I could use the distraction. Talk to me."
"What do you know about a recently salvaged ocean liner called The Goliath?"

...To Be Continued In DILLON AND THE VOICE OF ODIN
(For sale now at Amazon.com)
Dillon © Derrick Ferguson. Original Dillon Art © 2005 Trevor Carrington and used with permission.
[ Home | New Cases | Case History | Cliffhanger Agency | Sitemap ]