| | | |
| --- | --- | --- |
| | Friday Freebie Maps | |
Every Friday I will post a new Creative Commons licensed map. You are free to use/print these maps for personal use only. If you wish to use any of these maps in a commercial or non-commercial product, please contact Tim Hartin to learn how.
Friday Freebies usually include two (sometimes more) versions of the same map. One has a white background (for easier printing) and the other has a darker background. Click on the images below to view the larger version of the maps or click on the year banners to view the maps for a particular year. Under the map images are notes about specific map details.



The Enhanced PDF version of this map is available for sale ($1 US) at DriveThruRPG/RPGNow: Friday Freebie Enhanced Map: May 5, 2017. The Enhanced PDF has multiple layers allowing the options of white or black backgrounds, numbered or non-numbered areas, and secret doors on or off (for ease with Virtual Tabletop programs).
Friday May 5, 2017
Map Details:
The arrows represent a downward slope.
The dotted lines represent elevation lines showing the lower elevation.
Area 1 is a cave that is 30' above the outer landscape.
The tunnel north of area 8 has natural stone steps leading downward.
Area 14 has a large chasm with a stone bridge.
Area 23 b) is a natural pool of water.
Area 24 b) is a raised section 40' above area 24 a). There are hand and foot holes cut into the cliff face that allows access to the raised section.
While this map can be used as a stand alone map, it can also be linked up with last week's Friday Freebie map (April 28, 2017). The two maps together would look like this (click to enlarge):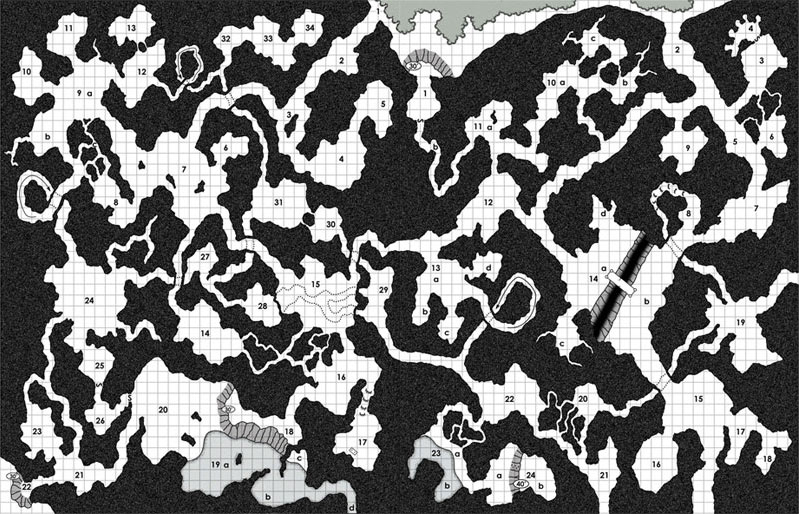 These maps by Tim Hartin are licensed under a Creative Commons Attribution-Noncommercial-Share Alike 2.5 Canada License. Inquiries about permissions beyond the scope of this license should be made by contacting Tim Hartin.