| | | |
| --- | --- | --- |
| | Friday Freebie Maps | |
Every Friday I will post a new Creative Commons licensed map. You are free to use/print these maps for personal use only. If you wish to use any of these maps in a commercial or non-commercial product, please contact Tim Hartin to learn how.
Friday Freebies usually include two (sometimes more) versions of the same map. One has a white background (for easier printing) and the other has a darker background. Click on the images below to view the larger version of the maps or click on the year banners to view the maps for a particular year. Under the map images are notes about specific map details.



The Enhanced PDF version of this map is available for sale ($1 US) at DriveThruRPG/RPGNow: Friday Freebie Enhanced Map: May 12, 2017. The Enhanced PDF has multiple layers allowing the options of white or black backgrounds, numbered or non-numbered areas, and secret doors on or off (for ease with Virtual Tabletop programs).
Friday May 12, 2017
Map Details:
The arrows represent downward slopes.
The dotted lines are elevation lines showing the lower areas.
Area 2 b) is cliff that is 50? high at its apex above area 2 a).
Area 3 a) is a gigantic cave that has a large pit represented by area 3 c). Area 3 b) is the winding walkway that leads down into the pit. Note the elevation markers for the heights -- 60? from area a) to area c). The 30? marker is the halfway point of the walkaway. There are three tunnel openings in this pit -- one on the walkway and two at the bottom of the pit.
Area 17 has three peepholes that allow one to view down into area 1 (and perhaps target intruders with missile weapons).
Area 20 has a depression in the cave floor.
Area 22 is the cave below area 3 a).
While this map can be used as a stand alone map, it can also be linked up with the the following Friday Freebie maps: April 28, 2017 and May 5, 2017. The three maps together would look like this (click to enlarge):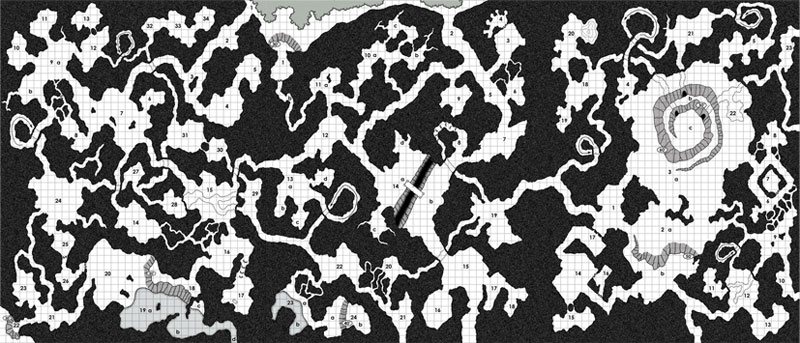 These maps by Tim Hartin are licensed under a Creative Commons Attribution-Noncommercial-Share Alike 2.5 Canada License. Inquiries about permissions beyond the scope of this license should be made by contacting Tim Hartin.