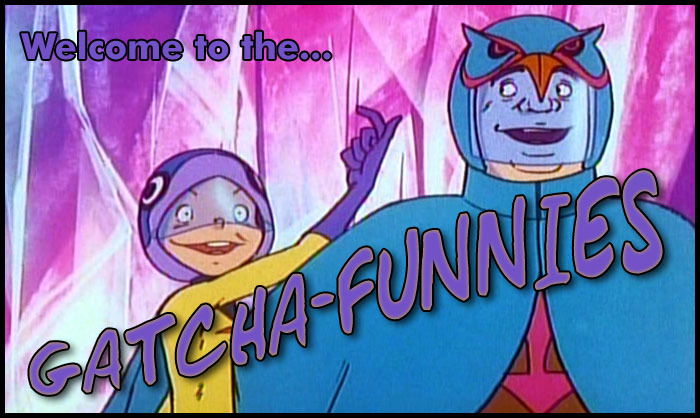 Introduction
It is no secret to those who know me that I'm a HUGE fan of the 1972 anime series known as Science Ninja Team Gatchaman (a.k.a. Kagaku Ninjatai Gatchaman) by Tatsunoko Productions (all rights reserved).
This site is a light-hearted, satirical look at all things Gatchaman related. All of these images are meant in good fun and should be taken in that spirit. Some of the images may contain a bit of "blue" humour but there should be nothing too shocking (I hope). *grin*
Updates & Cool Pics
I'll be adding new pics here as I create them so make sure you drop by and check for updates. I've also added a section called Cool Pics where I'll post the various images I've stitched together from multiple screen captures (usually two or three individual images). These aren't humourous images per se but are still worth checking out IMNSHO. Feel free to use these images for your personal use. If you use them on your website, a link back here would be greatly appreciated.
Gatchaman CCG
This originally started as a gag but has since took a life of its own. I've created cards for a Gatchaman Collector Card Game (CCG) which uses a modified On the Edge CCG rule system. A sample of the Gatchaman CCG cards can be found here.
- Sosai Tim -
Last Updated: November 30, 2015