A Villains & Vigilantes Campaign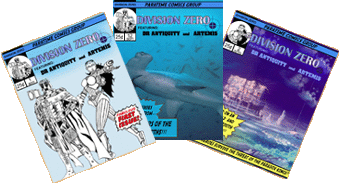 Gamemaster:
Tim Hartin
Players:
Lonni Holland
Stephane Bonetti
Welcome to DIVISION ZERO. This is my current Villains & Vigilantes face-to-face campaign (sorry, it isn't an online game).
Culled from the world over, Zero Agents test their unique abilities and training as they confront the weird, the fantastic and the unknown. Funded by a secret United Nations slush fund, DIVISION ZERO stands ready to protect the earth.
Over the last couple of decades, humans with extraordinary powers have begun to appear in greater numbers. These humans are known as Parahumans. Some theorize that this increase in Parahuman activity can be traced to the strange radiation that an alien starcraft leaked into the atmosphere when it crashed in 1984. The frequency of these appearances have steadily increased over the last decade. Over time, Parahumans have established themselves as successful agents.
By 2004, 80% of DIVISION ZERO's agents are Parahumans selected from the world over. Discreet training academies are located in the most unexpected places. Secrecy is paramount to DIVISION ZERO's existence and it is guarded accordingly. But this site will peel back some of the secrecy that surrounds DIVISION ZERO and allow you, the viewer, into a world of intrigue, danger, and paranormal powers.
| | |
| --- | --- |
| | Division Zero Main Page |
| | WODAN/Division Zero Background, Campaign Logs, Mission Notes, and more. |
| | Player Character notes and Campaign specific rules for creating characters. |
| | Take a peak into Campaign History. |
| | Various odds and ends of equipment that an Agent may use or encounter. |
| | House Rules. 'nuff said. |