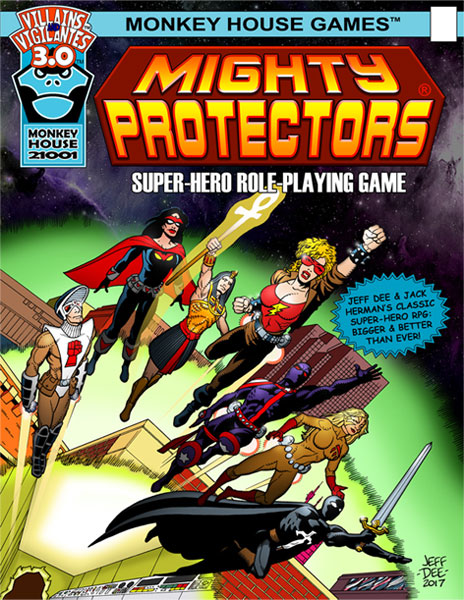 Welcome to the V&V Emporium. This site is dedicated to the various incarnations of my favourite superhero role playing game, Villains & Vigilantes™. The bulk of the site uses the classic 2nd edition/version 2.1 rules of the game, but the most recent focus (as of September 2017) is on Monkey House Games' V&V 3.0 Mighty Protectors RPG.
Make sure you check out my V&V Google+ Collection. It always has the latest V&V stuff from yours truly.
While I have plans on posting a ton of new stuff (heroes, villains, campaign setting, etc.), some sections of this site is still on hiatus (the Jeff Dee Art Gallery, V&V Cover Gallery, 2nd Edition House Rules, etc.). The main reason some of the site's sections are remaining on hiatus is one of time/commitment. I'm pretty busy with many RPG map commissions and projects* that I have only limited time to spend on this site. I would rather spend the time posting new stuff instead of trying to update the older stuff.
* See my main site (Paratime Design RPG Cartography) for a ton of free maps and PDFs plus various commercial PDFs as well.
Villains and Vigilantes was created by Jeff Dee and Jack Herman. Mighty Protectors is a registered trademark and Monkey House Games is a trademark of Monkey House Games. Villains and Vigilantes is a trademark of Scott Bizar.
V&V Emporium Updates:
Each character write-up has an image and a link to a printer-friendly PDF.
10.02.2017
Here are two new V&V 3.0 characters. The first is a hero called Carbon. He is a member of the Sensational Seven. The second is a villain called Wolfspider. He is a member of the super villain team called the Dark Tyrants.
10.03.2017
Here is a new V&V 3.0 villain called Moloch. He is a member of the super villain team, the Dark Tyrants.
10.15.2017
I've added two new V&V 3.0 villains. The first is called Payback. He is a vigilante who isn't afraid of hurting criminals and those who get in his way. The second is a super-powered muscle known as Physique.
10.20.2017
Added a new V&V 3.0 villain called Comrade Simian. He is an uplifted chimpanzee with experimental cybernetics and powerful mental powers. He wants to conquer humanity since he views them as being a lesser species.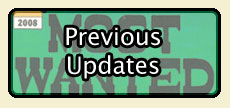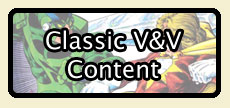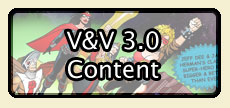 Click on the Classic V&V image link above for the 2nd Edition Character dropdown menus.
V&V 3.0 Mighty Protectors RPG Character conversions are listed below in their drop-down menus.
| | | |
| --- | --- | --- |
| Allies, Heroes, & Vigilantes | Aliens, Miscreants, & Villains | Miscellaneous Content |
| | | |