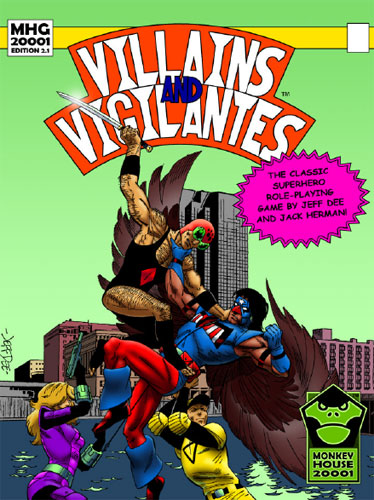 Welcome to the V&V Emporium. This site is dedicated to my favourite superhero role playing game - Villains & Vigilantes (2nd Edition © 1982 Jeff Dee and Jack Herman, v2.1 © 2010 Jeff Dee and Jack Herman). This site uses the classic 2nd edition/version 2.1 rules of the V&V game, but you may still find the odd page dedicated to the Living Legends (© 1996, 2005 Jeff Dee) version.
The Jeff Dee Gallery: Check out some wonderful art from V&V's creator, Jeff Dee. This page contains everything from his D&D illustrations to his V&V art. All scanned art images are © Jeff Dee.
The V&V Gallery: Other than being a great game, V&V has had some wonderful covers (both front and back). These covers capture the atmosphere of the comics beautifully. Some of the scans also have wallpapers available. As far as I know, all of the Fantasy Games Unlimited covers have been included and even the odd rarity (including V&V Comic cover scans and a few tidbits from the issues). What I haven't included are "covers" from V&V articles in various gaming magazines.
V&V Emporium Updates:
This shouldn't be a shock to anyone but the V&V Emporium is on a indefinate hiatus. My interest in superheroes, and comics in general, is at a long time low and as such, my interest in superhero RPGs has suffered as well. These days I'm usually busy working on various RPG related cartography projects that I don't have the time to play V&V. I want to take this moment to say thank you to Monkey House Games for bringing V&V back from its long hiatus. It is good to know V&V is in good hands.
| | | |
| --- | --- | --- |
| A list of previous site updates. | Help keep this site up and running! | Cover scans from previous months. |
Character conversions are listed below in their drop-down menus.
| | | |
| --- | --- | --- |
| Allies, Heroes & Vigilantes | Aliens, Miscreants & Villains | Television, Film & Print |
| | | |
| | | |
| --- | --- | --- |
| Marvel: War Years | Marvel: Silver Age | Marvel: Bronze Age |
| | | |
| | | |
| --- | --- | --- |
| DC Comics: Golden Age | DC Comics: Silver/Modern Age | Accept No Imitation |
| | | |
| | | |
| --- | --- | --- |
| The Cthulhu Mythos | Division Zero Campaign | Doctor Who |
| | | |
| | | |
| --- | --- | --- |
| Fantasy | Gatchaman | Supporting Cast (NPCs) |
| | | |